GRADUATION PROCESS
Application for Baccalaureate Degree (undergraduate and post-baccalaureate students pursuing a second undergraduate degree)

An application for degree must be submitted on MyCWU no later than the second Friday of the quarter before your expected degree completion term. Example: if you plan to graduate spring quarter, your application is due the second Friday at the beginning of winter quarter. Deadline dates are posted below.

Final responsibility for meeting graduation requirements resides with the student.
CHECKLIST:
Make sure all exception petitions for General Education and University degree requirements have been submitted to Registrar Services BEFORE applying for graduation.
Complete online graduation application from MyCWU (see right hand side of next page for instructions).
Teacher Certification Program students must complete the application for a Washington Residency Teaching Certificate, and Character and Fitness Supplement that is available online at www.cwu.edu/teacher-certification/.
Make sure all major/minor program substitution forms are submitted to Degree Checkout.
Pay graduation application fees. Once you have submitted your online application for degree/graduation your fees will be posted to your MyCWU.
Watch for Graduating Senior Survey to be sent to your CWU e-mail.
View graduation status.
Watch for commencement participation instructions that will be sent to students at the end of Winter quarter.
Deadlines for Baccalaureate Application
Fall Quarter 2016 June 30, 2016
Winter Quarter 2017 Sept. 30, 2016
Spring Quarter 2017 Jan. 13, 2017
Summer Quarter 2017 April 7, 2017
Procedure for Master's Degree Application
All master's students must contact the Office of Graduate Studies for a Final Folder check. Final Folder check needs to be requested the first week of classes during the quarter in which they expect to complete. Students must complete requirements for advancement to candidacy. Forms are generated by the Graduate Office. Fees are paid to the Cashiers Office.

Final responsibility for meeting graduation requirements resides with the student.

Deadlines for Master's Degree Application
Complete all Master's degree requirements by:
Fall Quarter 2016 Nov. 28, 2016
Winter Quarter 2017 March 10, 2017
Spring Quarter 2017 June 2, 2017
Summer Quarter 2017 Aug. 4, 2017
Applying for Graduation
Navigation: MyCWU > Student > Graduation > Apply for Graduation.
Students can apply for graduation through MyCWU. If a student is eligible for graduation, once they navigate to the above link, they will see a page similar to the one displayed below. Students are eligible to apply once they have reached 129 graded credits.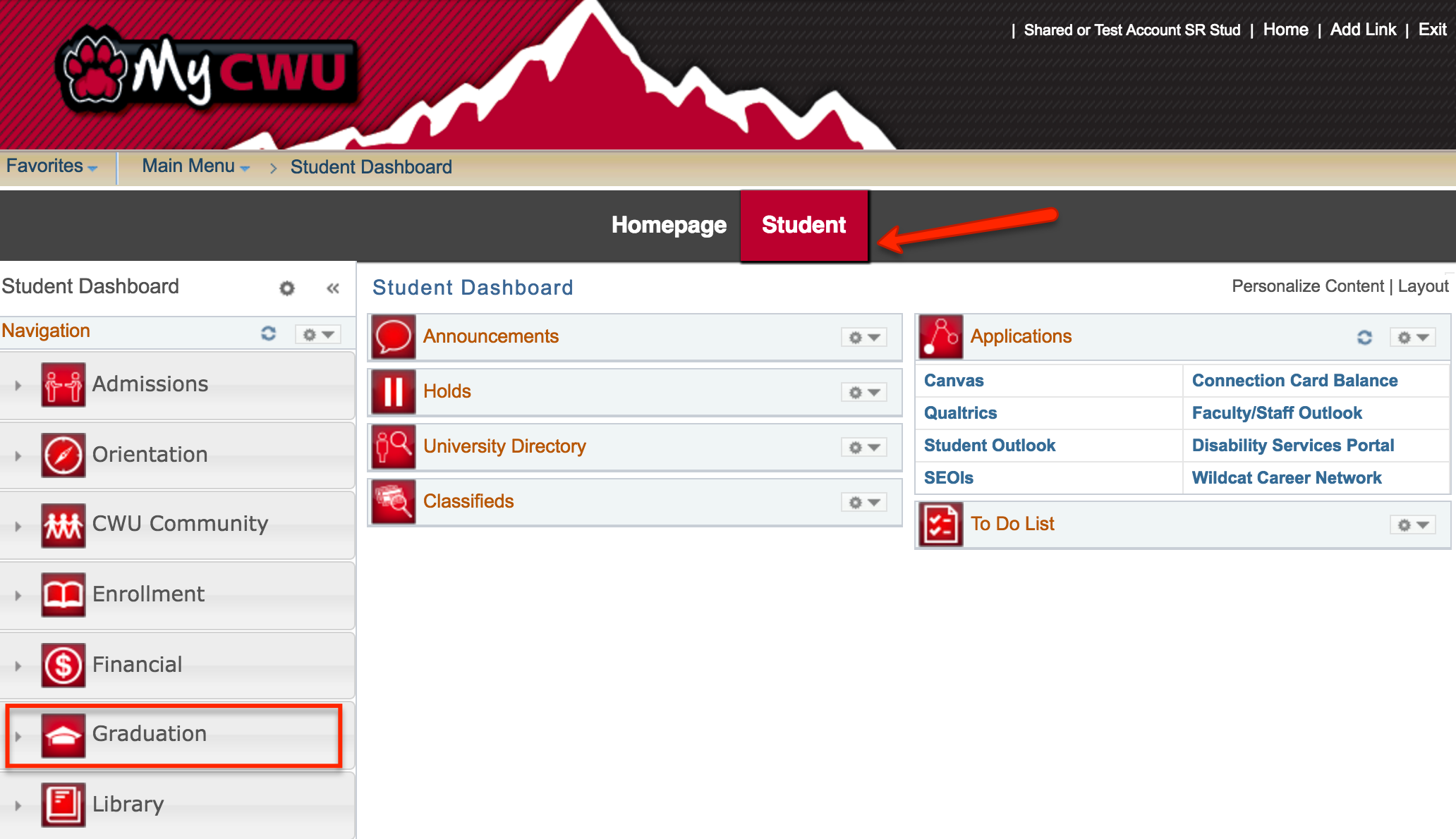 1. Click Apply for Graduation.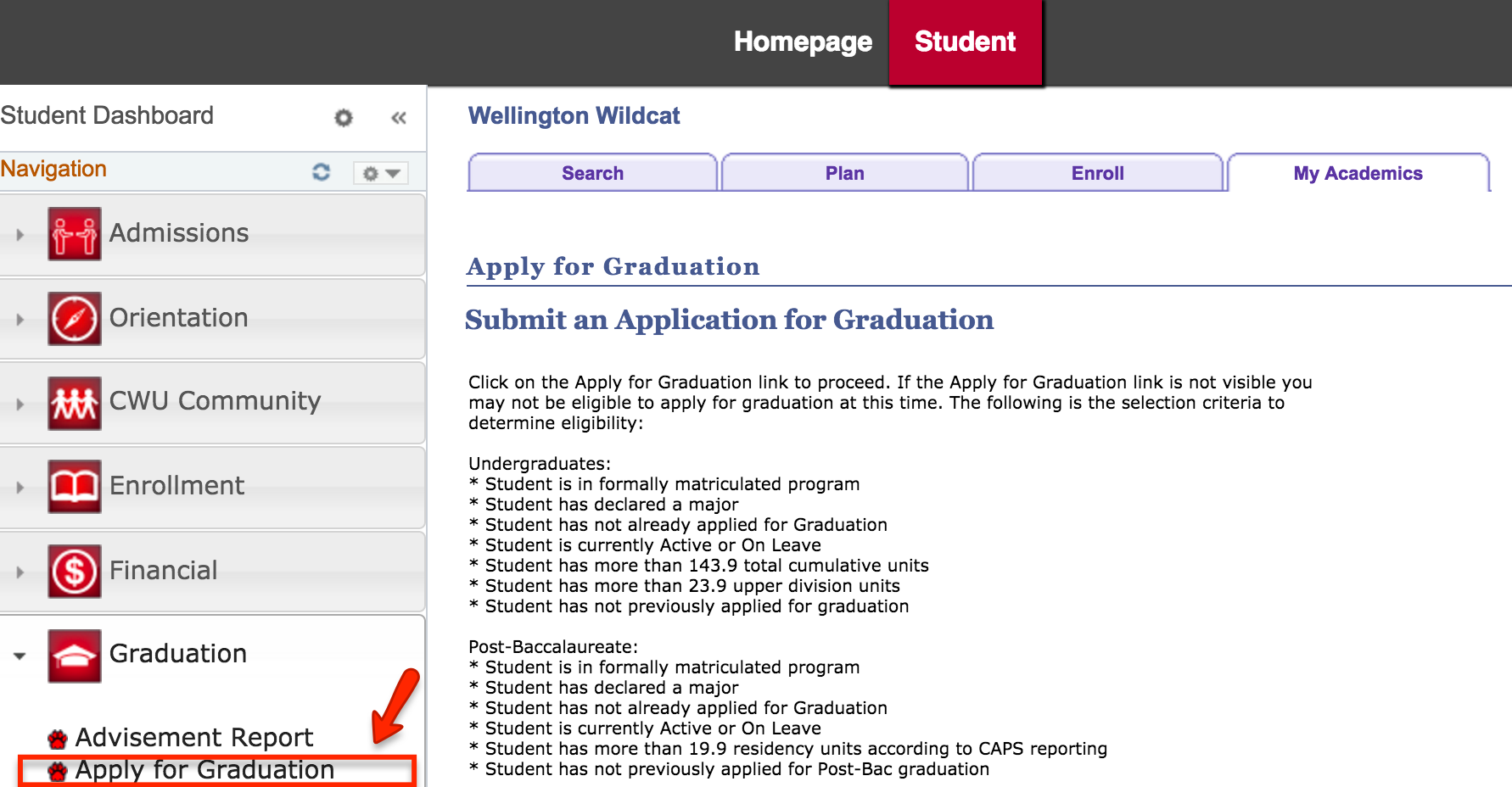 2. Click the "Apply for Graduation" link as shown below. If a student is not eligible for graduation they will not see the "Apply
for Graduation" link. The student should e-mail Degree Checkout at Degree.Checkout@cwu.edu.
 
3. Select Expected Graduation Term and click on the continue button.
4. Click the Submit Application button.
5. A confirmation message will be displayed that the student has applied for graduation.
Viewing Graduation Status
Navigation: MyCWU > Student > Graduation > Graduation Status.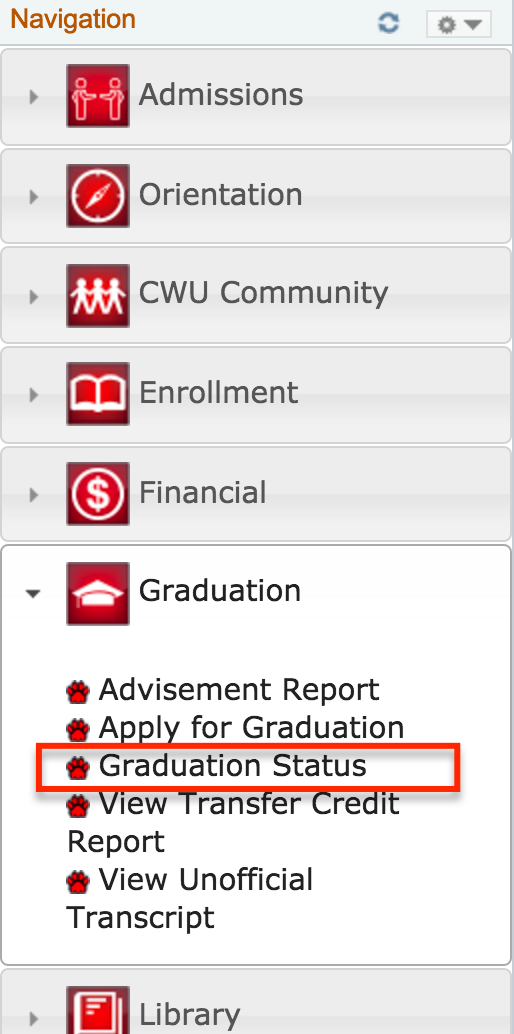 Once a student applies for graduation, they should make sure they check the following frequently:

1. Graduation Status. Students need to verify diploma name, and address of where to send CWU diploma once the degree is awarded.
2. Check MyCWU > Student > Student Dashboard > Holds and To-do list.
3. Check for communications on Student Outlook e-mail.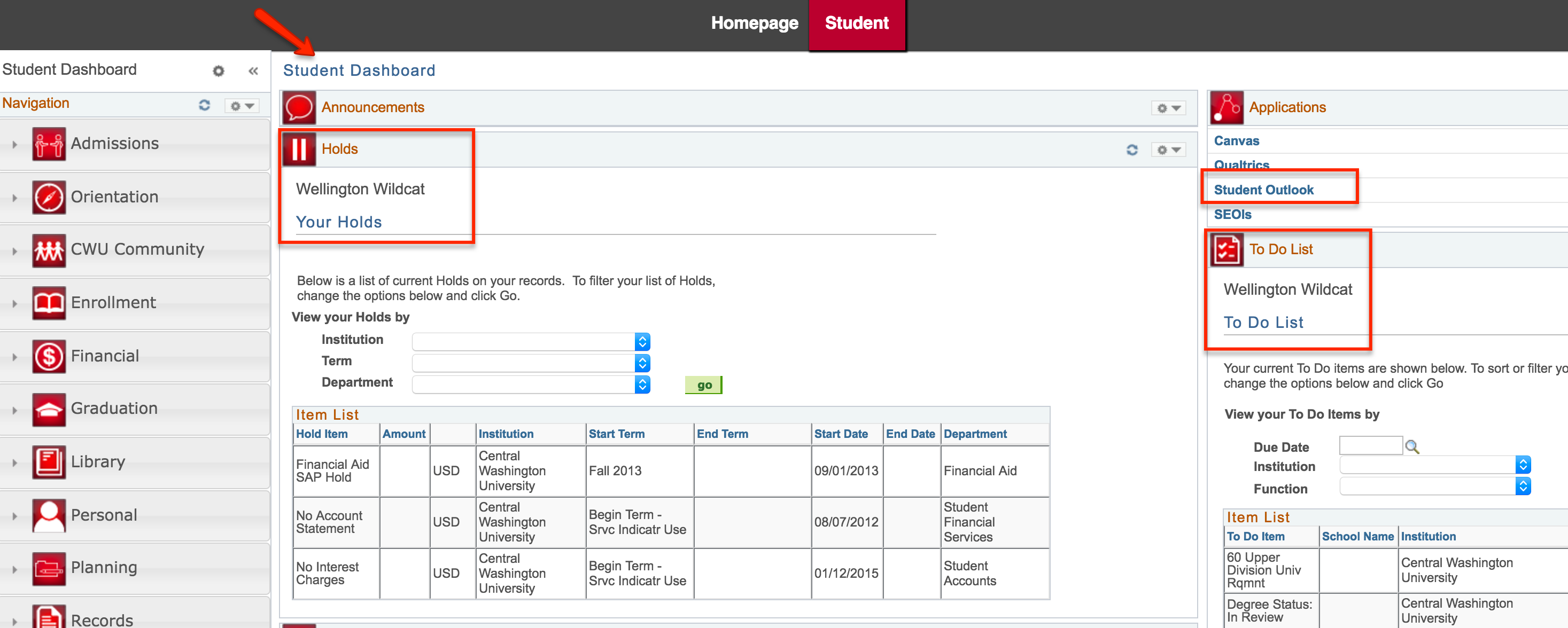 4. Make sure all outstanding account balances are cleared. Check MyCWU > Student > Financial > View My Student Account.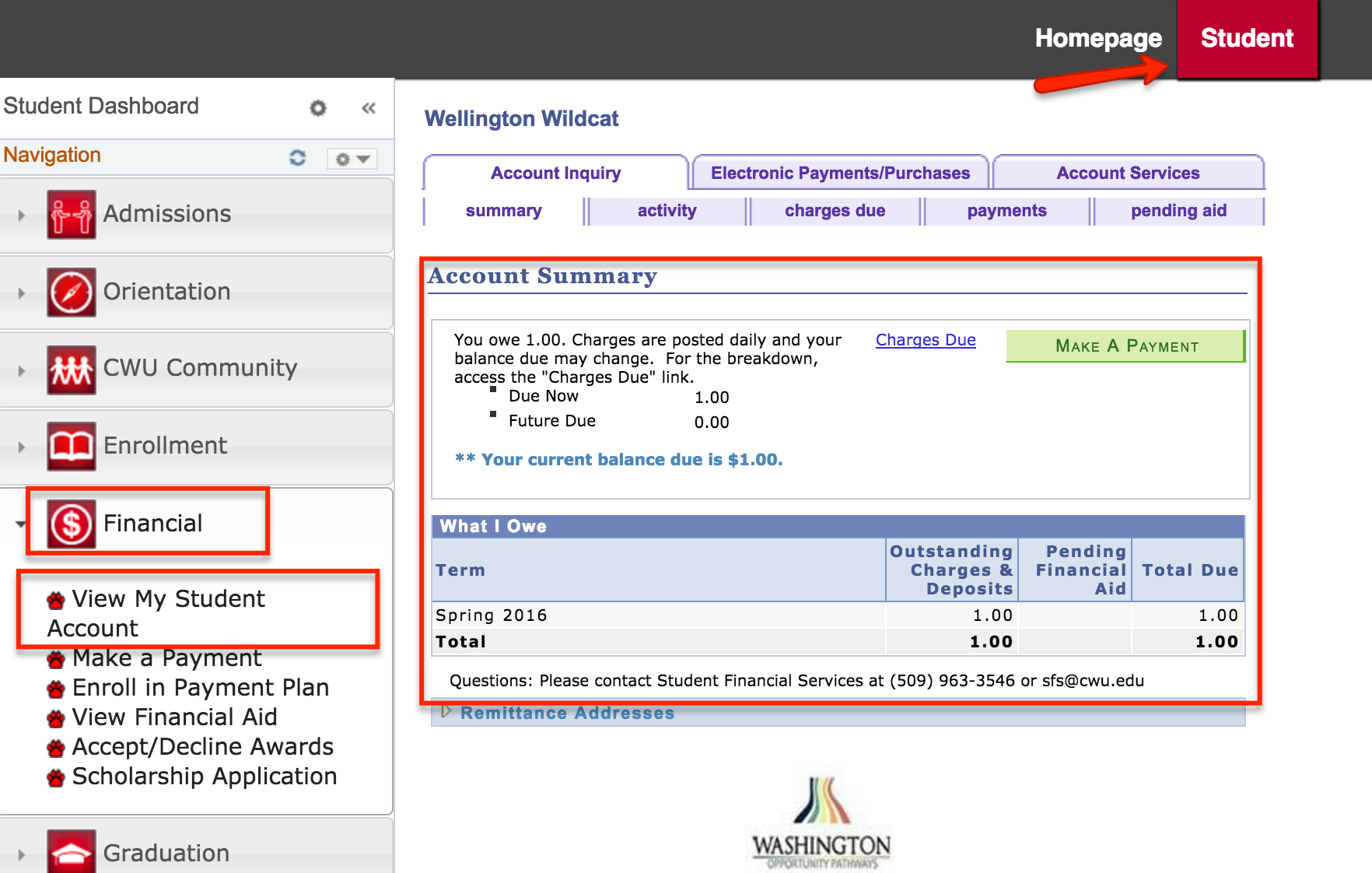 Helpful Hint:
Even if a student applies for graduation and walks at commencement, that doesn't mean they received their degree. Students are responsible for verifying their degree posts on MyCWU. You can check your Academic Requirements to see if your degree has been awarded or check your CWU e-mail for notification of award. If you have not heard anything after 4 weeks, you can contact Degree Checkout at 509-963-3524 or e-mail Degree.Checkout@cwu.edu.
COMMENCEMENT
Commencement Participation
In order to participate in commencement, students must meet one of the following:
Received degree in summer 2016, fall 2016, or winter 2017
Spring 2017 candidate with degree application on file prior to January 13
Summer 2017 candidate with application on file prior to April 7.
Students must anticipate completing all degree requirements by the end of the quarter for which they are applying for graduation. If they do not show all degree requirements will be completed, they may not be able to participate in commencement. Additional information can be found online at www.cwu.edu/commencement/.

Cap and Gown Form
Students participating in June commencement ceremonies must pay the cap and gown fees at the Wildcat Shop. For more information about cap and gown fees, go to wildcatshop.net/. All participants must complete the electronic commencement registration form to be eligible to march in the commencement procession. For more information, go to www.cwu.edu/commencement/. Caps and gowns from previous years may not be worn without prior approval from the Wildcat Shop representative in the SURC.

Commencement Dates
The dates for the June 2017 commencement ceremonies are:
Ellensburg: June 10, 2017
Kent: June 11, 2017
COURSEWORK AFTER GRADUATION
Fifth Year of Study for the Continuing Teaching Certification
Those holding a valid Residency Teaching Certificate and progressing normally through Washington's current teacher education program may seek a Continuing Teaching Certificate, as outlined in the current catalog. A program plan must be submitted to the director of certification.

Second Baccalaureate Degree
Qualified students seeking a second baccalaureate degree are admitted in post-baccalaureate status. To receive a second baccalaureate degree, students must complete:
Re-application for admission to the university
Any degree requirements not satisfied by the previous degree
A minimum of 45 quarter credits from Central.
Post-baccalaureate students must follow regulations applicable to undergraduates.